"On the table" workshops with a purpose
"On the Table" Workshops with a Purpose. A space where every female is welcomed no matter your background, age, skin color, religion or walk of life. A space to create something magical - standing next to someone who doesn't look like you. A space where you can create woven wall hangings, floral arrangements, learn the art of calligraphy, abstract painting, sketching, candle making and so much more.
WORKSHOPS ARE OUR JAM
Our Workshops are about COMMUNITY, UPLIFTING + DIVERSITY. Each workshop is meant for you to walk away with a memorable experience, walk away with a connection, walk away with wings. A place where your belly and heart leaves full.
TESTIMONIAL | LESLIE M.
"'On The Table Workshops' With a Purpose is so much more than a workshop. It's an experience. Sacred, cherished girl time. A time to cultivate you. I look forward to each workshop, as it's not entirely about honing a new craft, as it is to meet new friends, and eat and drink deliciousness, all while being treated like royalty. It's also an opportunity to meet and support local, small business owners. I leave each workshop feeling like my cup runneth over and blessed from the opportunity I've just experienced."
tESTIMONIAL | TIFFANY E.
"The 'On the Table Workshops' are my happy place. For a few hours I am able to escape into a world filled with women from all walks of life while enjoying amazing food, unique and creative activities, and genuine fun. I leave feeling refreshed, refueled, and refocused -- with a mind that is more at peace and primed for what this life as a busy mom, wife, and business woman throws my way! Thank you, Bree and The Iman Project."
want to host a corporate event or hang out with your friends with the iman project?
We would love to join you! We can craft an event that's specialized to you, your coworkers and your friends. Contact us today below!
interested in a WORKSHOP with us?
Share your passion and purpose with others!
SAVE THE DATES. #DUH
9.07.2019
Shine On: A Cool Candle Making Workshop with Candle Ghoul
(Little House of Bishop Arts)
9.15.2019
Wine & Design: End of Summer Floral Workshop with Jubilee Flower Co.
(Little House of Bishop Arts)
9.22.2019
Farm to Table: A Grazing Table Workshop with Fount Board & Table
(Little House of Bishop Arts)
9.28.2019
Brunch & Build: DIY Hairpin Coffee Table Workshop with Lavender & Mint Designs
(Little House of Bishop Arts)

9.29.2019
It's Fall Ya'll: A DIY Fall Cake Decorating Workshop with Eggs & Bakie









WANT TO ATTEND "ON THE TABLE" WORKSHOPS?
Get ya tickets here! For details + more, visit our eventbrite page
SUMMER WINE & DESIGN FLORAL WORKSHOP
06.10.18
"You have to become that woman you wish to find." I wanted to create a space for everyone. I wanted to create a space that no matter who you are, where you are from or where you are going you felt as though you belong. A space that equal community and where no judgment is passed no matter what A space that no matter your age, style, background, color of your skin you didn't feel as though you didn't have a seat at the table. But in order to create this I had to become that woman first. I had get the big picture, that we truly do rise by lifting others. That it is so dope to sit next to someone you don't know and create something magical next to someone who doesn't look like you. "On the Table" Workshops with a Purpose live & breath diversity. My intention to ensure there is a place for anyone and everyone at my table will be my legacy. xoxo, Bree
Thank you to my amazing sponsors Scribbles Lettering, Sasha's Hand-Poured Bath, Body, and Beard Care, Leslie Makeup, Krème de la Cupcake, Haywood Cotton Candy Catering, Pazzo Uptown and so many more!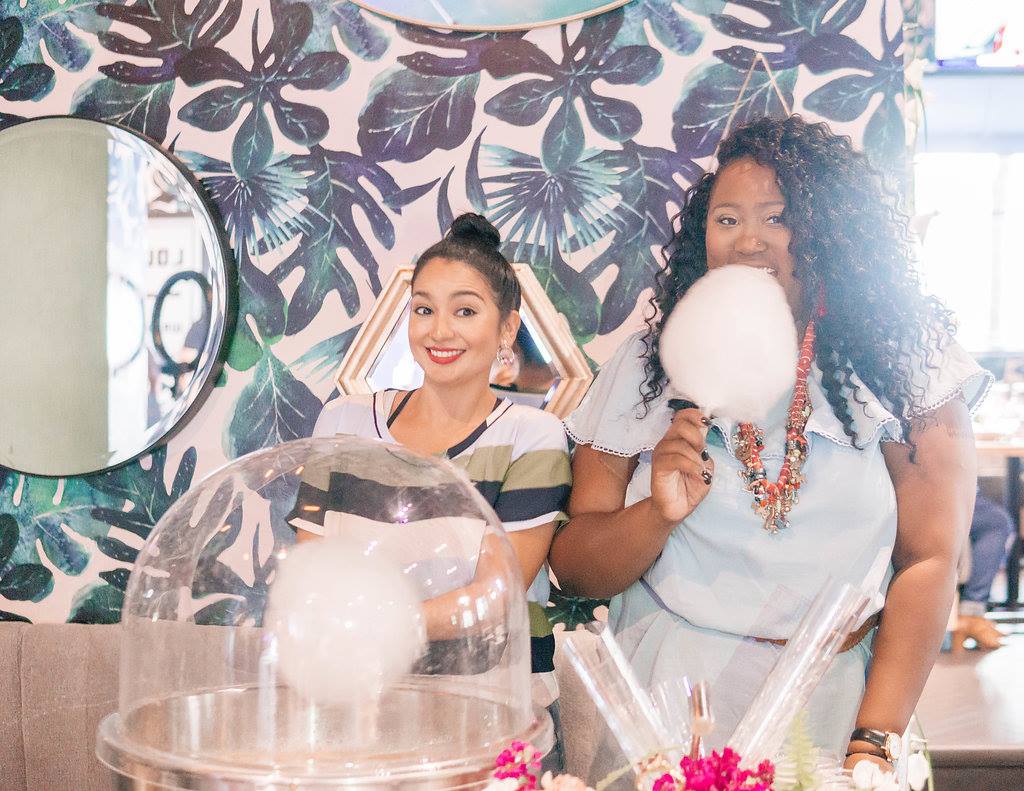 FLOURISH: A WATERCOLOR CALLIGRAPHY WORKSHOP | AUSTIN, TX EDITION
06.03.18
This beautiful moment I practiced what I preached. I stepped out my comfort zone and took "On the Table" Workshops with a Purpose on the road. We went to Austin, TX and it was magical. It was small, intimate & intentional. Everything & more I had dreamed of. . . . I could not be more thankful for Scribbles Lettering for traveling to Austin to share her passion with complete strangers. An amazing atmosphere, good food & southern hospitality compliments of Modern Market, sweet treats by Sugarfina & fab wine from @lovegarnacha. I can't wait to share many more workshops in Austin & around the country. (Yes I said country because I'm speaking it into existence) These workshops were founded with a purpose with.....a mission to create a space for women of different backgrounds, race, religion, age & style. And I'm going to make sure I continue to share with mission with any & everyone who wish to be part of it. #duh
Needles + Leaves: A Succulent & Floral DIY Workshop
05.20.18
Recently I went to New York and gave my very first TEDx Talk. The subject of my talk was A Seat at The Table. The main focus of my talk was to show community, diversity & empowerment are more then a hashtag. And I believe everyone should have a seat at the table. Today once again I was able to see the reason why I started "On the Table" Workshops with a Purpose. It was my most diverse & beautiful group of ladies this afternoon. Women of different age, style, shape, size, location and more. It was pure magic. It made my heart smile. Our workshop today was taught by the fab floral duo Bestow Blooms. These ladies are beautiful inside and out. The flowers and succulents were so precious. Scribbles Lettering once again made the cutest placecards. We left with our bellies full compliments of Modern Market. I cant wait for our next workshop. And we hope that you can make it...because we certainly have a seat at the table for you. #duh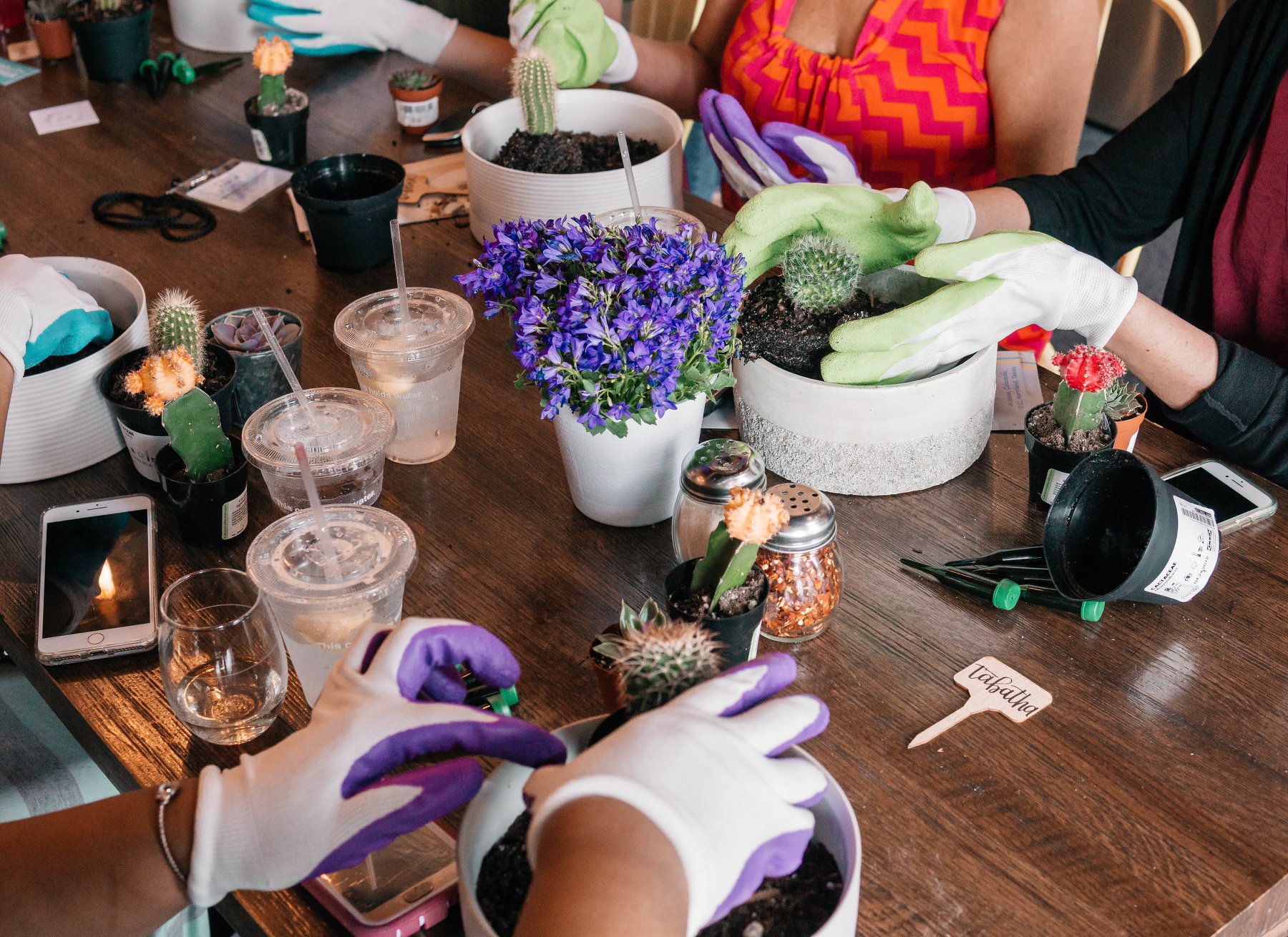 Brunch + Build with The Clarke's
04.29.18
With Brunch & Build, I shared my passion + purpose along side my husband and father. As we taught over 20 ladies how to make their own farmhouse bench, it was magical. Along with laughter, beautiful conversations and brave women there was a fab brunch by Norma's Cafe and of course a Mimosa Bar! I say Brave because woodworking is not easy. More then half of the ladies who joined the workshop had never even picked up tools. So, we saw women of different backgrounds, styles, shapes & ages come together and each walk out with their very own farmhouse bench. This makes us smile. Can we take a moment and fall in love with our custom hand lettered tool boxes and signage? Yes, that's right each guest left wit their own little tool box. We must thank Scribbles Lettering for magical hands. #DUH! We can't wait for our next Brunch & Build with the Clarke's!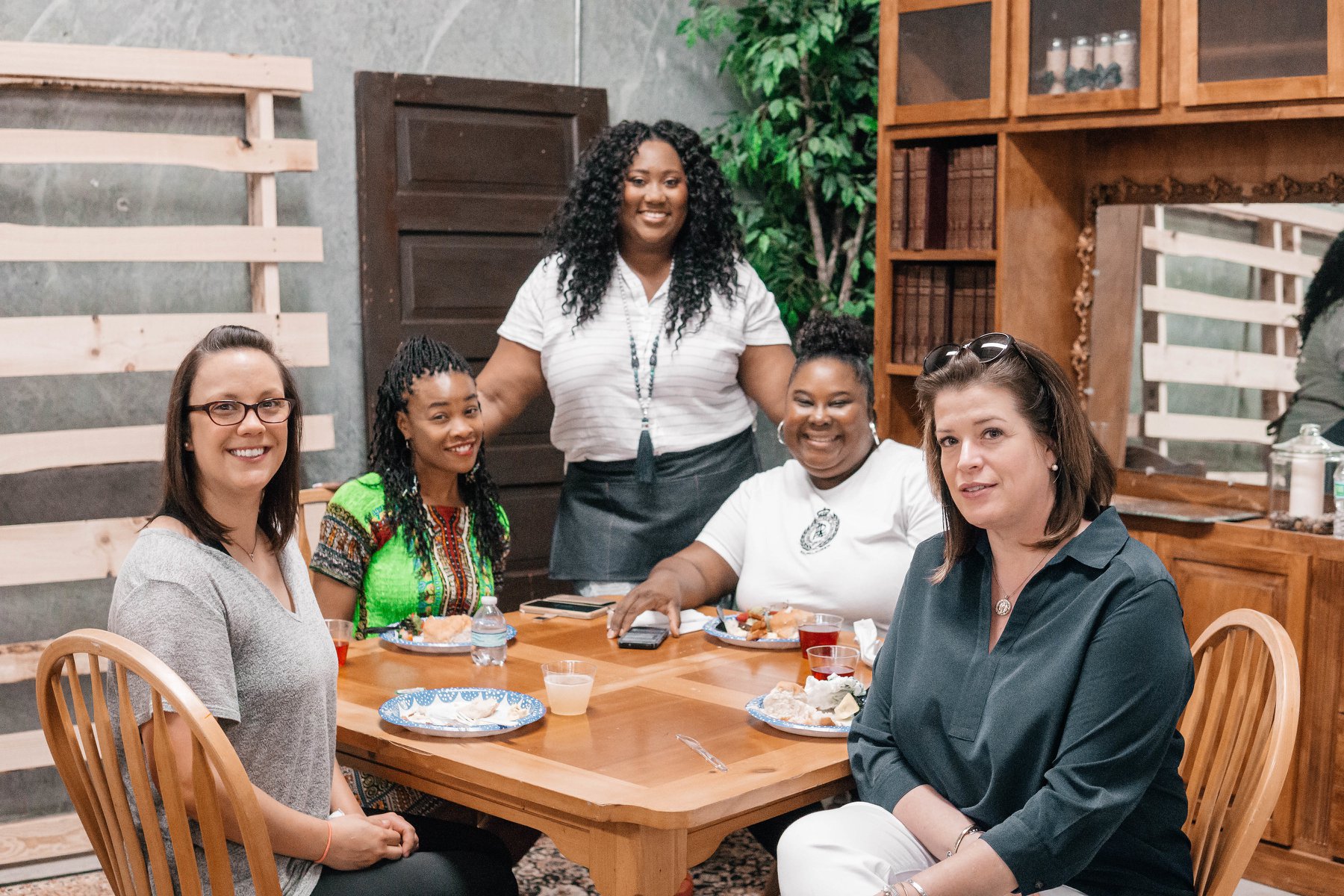 FLOURISH: A WATERCOLOR CALLIGRAPHY WORKSHOP
04.15.18
Diversity is more then race. It's different backgrounds, ethnicities, ages, style, religion, opinion, size, location & more. When I started "On the Table" Workshops with a Purpose, I had one mission. To create something I didn't see. To create a place where everyone had a place at table. . . . To create a space where when I walked into a room everyone didn't look like me & everyone didn't look different from me. To create a space for the "Every Girl" and really mean it. My passion, purpose and the ladies that attend make "On the Table" Workshops with a Purpose possible, the creatives who share their purpose make our workshops possible. They allow me to share my vision. They allow themselves to embrace diversity & create something magical next to someone who does not look like them. And that's pretty dope. . . FLOURISH: A Watercolor Calligraphy Workshop with Scribbles Lettering at Renaissance Dallas at Plano Legacy West Hotel was pure magic. Thank you to our ahhmazing sponsors: Ink the Tee, Sugarfina, Sasha's Hand-Poured Bath Body and Beard Care
BLOOM: A FLORAL ABSTRACT WORKSHOP
03.18.18
So many times we are guilty of looking around at where others are going. Or what they are doing. We start to question where we are in life. When actually we are exactly where we need to be. And all we have to do is "Bloom where you are planted". A quote I love and live by. This quote came alive at our workshop BLOOM: A Floral Abstract Painting Workshop with Taelor Fisher Painting. It was magical. The women were magical. The food, the ambiance, the weather. Everything was perfect. Thank you to all those who attended and allowed once my vision to come alive. Thank you to Omni Dallas Hotel for sharing your "Restaurants on Lamar" Cafe Herrera on Lamar was so amazing! Our sponsors Cately Designs, Kate McLeod, Scribbles Lettering, Sasha's Hand-Poured Bath, Body, and Beard Care, Richardson Living Magazine, Abi Ferrin, Haywood Cotton Candy, Catering Katie Rogers. . . You guys are all so amazing!
I GOT THE KEYS: A HANDSTAMPING KEY NECKLACE WORKSHOP
03.04.18
In Celebration of National Women's History Month, we had our first workshop of the season in March. Expressions Bracelets shared her passion with each us by teaching us how to handstamp our very own Key Necklace. The women in attendance were magical. There was laughter, connection and just a beautiful time. Modern Market was the epitome of warm hospitality. From the fab food, inviting enviroment & impecable service. None of us wanted to leave. Our sponsors were so amazing and I am so grateful for each one of them. Belong Magazine, Dolly Estelle, Scribbles Lettering, LaCroix Water & Anitram Handmade Soaps. My heart is so full!